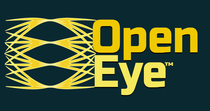 WELCOME TO THE Open Eye MSA GROUP
Minimizing the need for signal processing in optical modules has many advantages including significantly lowering latency, power consumption and cost. The independent Open Eye industry consortium is committed to investing its amassed innovation and engineering resources for the development of an industry-standard optical interconnect, leveraging seamless component interoperability among a broad group of industry-leading technology providers, including providers of electronics, lasers and optical components.
The Open Eye MSA approach is a natural evolution relative to today's high-volume optical nodes, enabling users to scale to next generation Baud rates. The initial Open Eye MSA specification will focus on 53Gbps per lane PAM-4 solutions for 50G SFP, 100G DSFP, 200G QSFP, and 400G QSFP-DD, and OSFP single mode modules. Subsequent specifications will address multimode and 100Gbps per lane applications.
Enables low power SFF modules
Enables a wider range of technology options including low cost, low power and low latency electronics
Low latency via utilization of retimers ideal for time sensitive applications
Compatible with installed Single Mode and Multimode Fiber Infrastructure
Supports IEEE compliant nx50G PAM-4 electrical interface for compatibility with existing switches and routers
Reduces complexity and leverages reliable optical compliance testing using traditional eye diagrams in place of TDECQ
The MSA is developing optical transmitter and receiver specifications to enable optical module implementation using a wide range of optical and electronics technologies
Low Cost Silicon Photonics or widely available EML/DML for Single Mode Fiber
Low cost VCSELs for Multimode Fiber
Low power and low latency CDR based or existing DSP based electronics
Compatible with 56Gbit PAM-4 host requirements

OIF CEI-56G-VSR-PAM4
IEEE 50GAUI-1, 100GAUI-2, 200GAUI-4, 400GAUI-8
Specifications will be released in fall 2019.